Venues (Don Haskins Center)
Don Haskins Center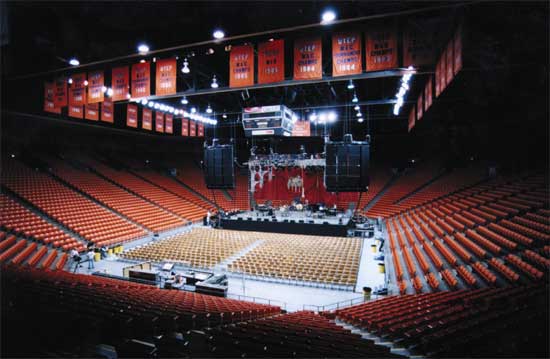 ---
The Don Haskins Center, home of the UTEP Athletics Men's and Women's Basketball teams, is named after the legendary UTEP basketball coach. Used as a basketball facility, it has a permanent hardwood floor with Safeguard floor covering and is configured as a 127' x 84' octagon. The center is also one of the most flexible performance arenas in the Southwest. It features 11,767 permanent seats, 36 wheelchair spaces, and 800 portable seats in the round, and 7,000-9,000 seats with end-stage seating.
Click here to download Don Haskins Center capacity map.
Click here to download Don Haskins Center Tech Pack.
Acts that have appeared at the center are varied and include: Santana, Metallica, Rod Stewart, Luis Miguel, Juan Gabriel, Coolio, Aerosmith, the Scorpions, Ozzy Osbourne, Vincente Fernandez, and Crosby, Stills and Nash, as well as the Harlem Globetrotters, the Royal Lipizzaner Stallions, World Championship Wrestling, and preseason NBA games.
The Don Haskins Center is also used for UTEP commencements, EPCC graduations and area high school graduation ceremonies.
Don Haskins Center Specifications
Staging:
50 SICO 6' x 8' x 4' sections
90 SICO 4' x 8' Tuff Deck
20 Wenger 4' x 8' x 32"
Rigging:
Rigging grid over entire floor
Height from floor to beam: 54'
Height from floor to grid: 62'
Weight capacity: 50,000 lb. per truss, 5,000 lb. per point
Spotlights:
4 Strong Supertrouper Carbon Arc
4 Lycian SuperStar 2.5 Xenon
Power Available:
800Amps, 208v 3-phase breakers
400Amps, 208v 3-phase disconnect
200Amps, 208v 3-phase disconnect
100Amps, 208v 3-phase disconnect
200Amps, 208v 3-phase breakers outside tunnel
100Amps, 208v 3-phase breakers outside tunnel
Loading:
Loading door: 16' high
Loading ramp: 20' wide
Trucks can load directly onto stage
Intercom:
3-pin xlr jacks at both ends of the floor
spot platforms
sound board
lighting console
ClearCom Intercom
Dressing Rooms:
4 locker room/team dressing rooms, each with showers and restrooms
Artist Green Room
Locker room floor plans
Production offices:
Two available
1 - 88 sq. ft.
1 - 242 sq. ft.
Located at the top of the tunnel:
Production Parking:
Lot across street for trucks and buses
Shore Power Available:
2 100Amps, 208v 3-phase breakers
2 60Amps, 208v 3-phase breakers
Other Information
Tickets:
Box Office:
Merchandising:
25% plus 8.25% state sales tax (Artist sells)
Police:
Ushers/Ticket Takers:
T-Shirt Security:
Stage Hands:
Combined IATSE/student crew
Pyrotechnics:
Please call the facility 915-747-5265
(must have Texas licensed technician)
Insurance:
$1 million policy with UTEP additionally insured
Concessions:
Provided by SODEXHO Marriott 915-747-8880
Alcohol Policy:
Building Use:
Driving Directions to the Don Haskins Center
From Airport:
Take Airway Blvd south from airport to I-10 intersection. Go west on I-10 to Mesa Street exit (exit 19). Turn right on Mesa Street and drive north approximately 1.5 miles to the intersection of Glory Road & Mesa. Turn left on Baltimore and go one block. The Don Haskins Center is on the right side of the street.
From West:
Take I-10 east into El Paso. Take the Schuster/Sun Bowl exit (exit 18a) and turn left on Sun Bowl Drive. Follow Sun Bowl across campus and past Sun Bowl stadium to three-way stop sign. Turn right on Glory Road to next stop sign and turn left. Go approximately one block and Don Haskins Center is on the left.
From east:
Take I-10 west into El Paso. Take the Schuster/Sun Bowl exit (exit 18a). Continue straight through one stop light and one four-way stop sign past the Sun Bowl Stadium. Turn right on Glory Road (at the three-way stop sign) and keep left. The Don Haskins Center is on the left side of Glory Road with a parking lot on your right.
Rules and Regulations of the Don Haskins Center
For the safety and comfort of the audience, the following items will not be permitted into the arena: Alcohol, food and beverages, pets, laser pointers, audio/video recorders, weapons, fireworks, bottles/containers, umbrellas, coolers/ice chests, signs/banners, strollers, helium balloons, or professional cameras with detachable lenses. There is no check-in area for disallowed items, so please leave them in your car!
All patrons are subject to a search and/or wanding by security personnel. Promoters, security and performers are not responsible for any items or personal property voluntarily surrendered during search procedures at the entrance.
There is NO RE-ENTRY for any reason. A new ticket must be purchased to re-enter the building.
Ticket Purchases and Will Call are available at the UTEP Ticket Center located in front of the East entrance to the Don Haskins Center.
You may access the floor through the portals marked Floor Entrance. Please keep your ticket with you at all times. You will be asked to show your ticket each time to access the floor.
There is an ATM in the UTEP Ticket Center. Merchandise can be purchased with a credit card.
There is a public phone available in the venue. It is located on the North East section of the concourse across from Section D.
The UTEP Don Haskins Center prohibits smoking in all seating areas and aisleways. Please be respectful of the people next to you.
Please be aware that the Police Department will be present to enforce state and local ordinances.